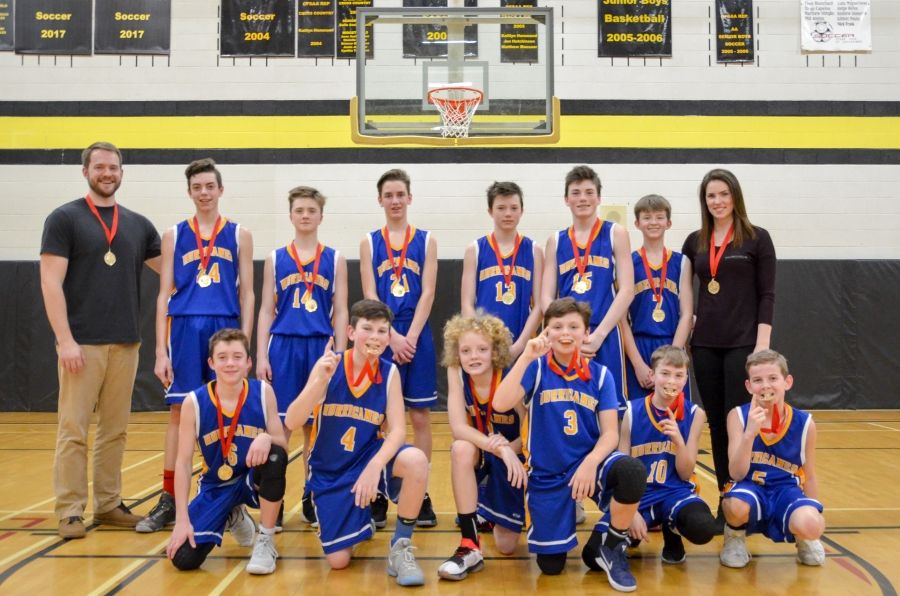 This past weekend the U14 boys attended the IEM Basketball Tournament in Newmarket. The boys went 5-0 and brought home gold!!
Saturday morning the boys played The Scarborough Blues. The final score was 53-30, the points for the team were very widespread, Andy Bulloch with 10, Riley Knox with 9, Cal Truax with 8, Kyler Van Kooy with 8 and Oscar with two 3-pointers in the second half.
The second game was against Whitby Gladiators, at half Whitby was up 26-24. The boys fought hard and really came out strong in the second half. Finishing the game with a score of 60-44. Riley Knox lead the team in scoring with 24 points, Will Caswell with 8, Cal Truax with 8, Oscar Finn with 6.
The third game on Saturday was vs. the Kirkland Lake Swampdoneys – final score was 44-27. Sam Hollinshead had 10 points, Riley Knox with 8, Oscar Finn had 7, and Lachlan Manaroff with 4.
On Sunday morning the boys faced the IEM Spartans, another team that was undefeated in the tournament. The first half was close, both teams were playing well – but The Hurricanes hit three clutch 3-pointers to bring the score up to 28-19 going into the second half. The team really pulled together hitting 20 of 35 foul shots throughout the game. Which helped them bring home the win with a score of 49-45. Riley Knox had 15 points (9 of which were foul shots) and 11 rebounds, Kyler Van Kooy had 7 points and 8 rebounds, Andy Bulloch had 6 points.
As the boys headed into the finals, they knew they would have to come out strong, since we had played Midland earlier in the season. As a coach, that game made me very proud because the boys stepped out on the court as a team. It seemed like everything we had been working on all season came together in that game!
The first half was strong, leading Midland 45-15 going into the second half. The boys continued to play as a team and controlled the tempo of the game till the final buzzer, finishing with a score of 74-38. Riley Knox had 23 points (19 in the first half), Lachlan Manaroff had 12 points, Kyler Van Kooy had 11, Sam Hollinshead had 11.
The entire team contributed towards the gold medal win, you boys earned it!!
The team will head to MUMBA at the end of March.