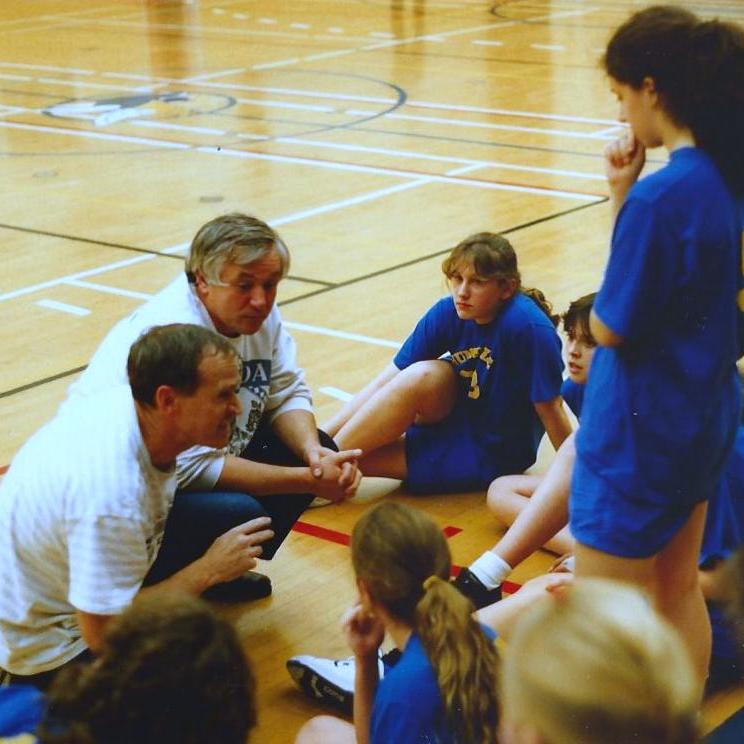 Carl Nelson and George Hoo in an early years time out.
Welcome to the Hurricane wall of Fame
The Wall of Fame page is dedicated to Huntsville Hurricane Basketball Club founding members George Hoo and Carl Nelson. These two coaches, who arrived in Huntsville during the same period, when basketball quality was at its lowest level; demanded commitment and effort from their players and turned it into a program of excellence for over a quarter of a century. Carl and George coached with the Hurricanes for 27 and 19 years resepctively, both often coaching multiple teams in the same season. Their teams won multiple championships while supporting the high school program which culminated in an OFSAA Gold Medal and a silver medal at the 2000 National Invitational Tournament. George and Carl set the coaching standard for dedication and excellence that displayed an example for those that followed, influencing thousands of young athletes and many coaches.
We would like to thank and honor everyone who has helped shape of the face of the Huntsville Hurricanes Basketball Club over the years. We believe that it takes a large community of Athletes, Coaches, Managers and Builders to create an organization such as ours and feel that this list reflects a superior level of dedication and excellence.
Team Ontario Athletes

Tierney Hoo
Rachael Hopson
Phillip Mathies
Ella Rees

Post Secondary School Athletes

Aaron Chapman (Niagara College)
Kaitlyn Dafoe (University of Ottawa)
Celeste Dupuis (Nipissing University)
Julie Hoo (Carleton University)
Tierney Hoo (Laurentian University)
Rachael Hopson (Jefferson State College)
Julie Kay (Laurentian University)
Phillip Mathies (Guelph University)
Taylor McAlpine (York University)
Merissa Moore (George Brown College)
Jeff Nelson (Sir Sandford Fleming College)
Amanda Orr (Humber College)
Urvi Patel (George Brown College)

25 Year Members

Carl Nelson
Michael Simonett

15 Year Members

George Hoo
Austin Simonett

10 Year Members

Andy Atkins
Scott Barker
Lauren Cornwell
Samantha Garrod
Martha Lapp
Lynne Newell
Ann Murat
Kelly Picken
Sheila Roberson
Craig Teakle

8 Year Athletes as a Hurricane

Maggie Atkins
Alison Boucher
Aaron Chapman
Jordan Connolly
Nicole Cotterchio
Kristen Dafoe
Takiah Ebbs-Picken
Spencer Hazelwood
Cody Hiscox
Julie Hoo
Elly Lapp
Josh Main
Emma McAlpine
Michelle Murat
Puran Patel
Urvi Patel
Alexis Roberson
Kaiya Roberson
Austin Simonett
Mason Smith
Laura Stilwell
Stephanie Strang
Should you know of someone, including yourself, who should be on the lists above please let us know so we can update this page. Click here to send us a message. We appreciate all who should be recognized and apologize for those that have been left off unintentionally.
Qualifications:
All Team Ontario athletes played at least one season with the Hurricanes.

All Post Secondary athletes played at least one season with the Hurricanes.

Years of service includes all years as an Athlete, Coach and Builder.
---